We make all natural deodorant (that actually works) for people who value non toxic products and need a healthy solution that allows them to feel confident throughout the entire day! While deodorant will always be my first baby and the reason I opened Calm Your Pits, we have grown to offer a wide range of natural products. One thing that will never change: everything we make is always vegan, cruelty free, effective, natural, non toxic, and safe for all ages.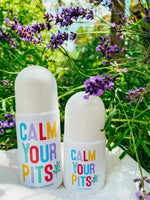 The Calm Your Pits Story
I'd love to take all the credit for this incredible deodorant... but it was actually my mom's idea.
My mom has always been a huge advocate for natural healing. I remember growing up using her "magic oil" (minty essential oil blend) for tummy aches instead of pharmaceuticals. Long story short, an unexplained tooth pain led her into a rabbit hole of research where she learned about all the benefits of magnesium! She found that magnesium can be used as a deodorant and started experimenting making her own, adding essential oils for a natural scent, and eventually perfected the recipe.
At this point I had tried almost every natural deodorant brand you could think of. None of them worked for me. They all only lasted an hour or so and then I'd have to reapply. This doesn't work in the real world, so I gave up and went back to the toxic "clinical strength" men's antiperspirant. The unfortunate struggle so many others deal with (if you've ever tried natural deodorant before you know what I mean).
My mom made me one of her magical deodorants and of course I was skeptical, I had already accepted the fact that natural deodorants just don't work for me. I finally decided to give it one last try, and I was literally SHOOK - it lasted ALL DAY! No reapplications, no stained clothes, no rashes and no stinky pits.
I loved it so much she taught me how to make it myself. I've been making this deodorant for my husband and I ever since! In 2019 some of my friends asked for deodorant recommendations, so I started making some for them too. They were also shook - a natural deodorant that actually works... WHAT?!
After a year of everyone in my close circle using and loving their deodorant, I knew I needed to really share this life changing product with the world. That's when Calm Your Pits was born! I launched my business on my 30th birthday, July 17th 2020.
Since then, we've grown to offer many natural products and have helped thousands of people calm their pits. I can't wait to hear your success story next.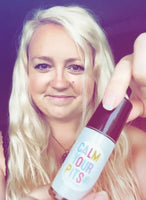 Customer Reviews